It is so tempting for us to live as if the main thing about ourselves is what others can see on the outside. We know that what's on the inside is most important—but our old sin nature keeps enticing us to focus on the external. It's especially crucial for church leaders to avoid this pitfall because people look to us as examples of how to live the Christian life. Unfortunately, at times we act as if degrees, experience, teaching talent, leadership skills, or a gregarious personality are more important than the inner man. While those things may be helpful, they are not the main thing for a minister.
So what is the main thing?
There are two central passages where the Lord describes what He requires of those who lead His people: 1 Timothy 3:1-7 and Titus 1:5-9. Each of the attributes listed in these verses can be classified as character qualities, skills, or knowledge. The chart below puts each of the attributes into one of those categories.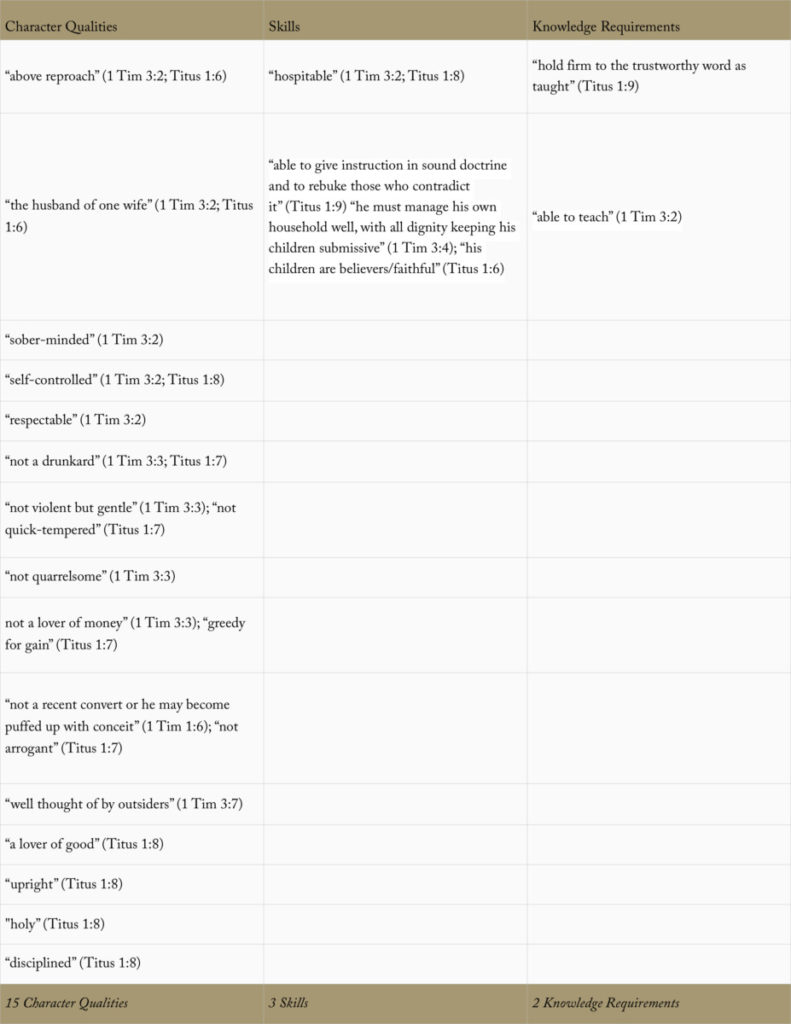 Surely several of the attributes could be put into more than one category, but the passages overwhelmingly emphasize the point of character or the inner man. This is likely the case because godly character reflects God Himself. We are striving to be an aroma of Him, not to impress others with our skills and knowledge (although those are important too). Interestingly, I looked through six Christian books on leadership, and only one had a section about character.
What do we emphasize more? Do we value what God values? Or, are we more impressed with the flashy aspects of having a large, successful ministry? Do we see Christ-likeness as our most important calling, or do we hope that that part will run on auto-pilot while we busy ourselves with more visible ministries? Are we putting as much effort into "training ourselves for godliness" (1 Tim 4:7) as we are in exegesis, theology, or homiletics?
Character Illustrated
We need more information on how to keep character as the main thing. The Greek word for "character" is a good place to start. Χαρακτήρ charaktḗr originally referred to a tool used for engraving. Over time it came to denote the mark, cut, impression, or stamp that a craftsman produced. Thus, the word came to signify the impression that accurately reflected the object whose image it represented. To have character is to faithfully represent the original.
We are striving to be an aroma of Him, not to impress others with our skills and knowledge.
How well are we doing that? When people meet us, do they sense a glimpse of the Master who captivates our hearts? Is there something different about us that is both holy and winsome? Is His engraved signature clearly stamped on our hearts and lives?
Jesus Himself is the preeminent example of character. Χαρακτήρ charaktḗr is used only once in the New Testament. Hebrews 1:3 describes Jesus as "the radiance of the glory of God and the exact imprint [χαρακτήρ charaktḗr] of his nature…." Jesus Himself said, "If you have seen Me you have seen the Father" (John 14:9). We too should be visible evidence of the reality of God. This must come from the inside, as a work of the Holy Spirit, rather than striving in our own strength to meet an outward standard. Christ radiated the character of God, but if we are lacking (and who isn't), what should we do?
How to Ready Ourselves to Receive the Engraving
This is a massive topic, but first, we must remember that character formation is a work of God. This brings great hope! It doesn't ultimately depend on us. This keeps us from thinking that we have the power to eradicate sin from our lives or reform ourselves. John 15:5 teaches, "Apart from Me you can do nothing." The Holy Spirit shapes and prepares our surface for His stamp through at least four things: trials and suffering, the spiritual disciplines, other godly people, and obedience.
Trials and Suffering
Although we tremble to hear it, character is born in the crucible of trials. It grows in the fertile ground of a heart that has been plowed over and weeded by suffering. When we respond rightly, the Holy Spirit uses these experiences to develop character. Romans 5:3-4 says, "We rejoice in our sufferings knowing that suffering produces endurance, and endurance produces character…." Job 23:10 says, "When He has tried me, I shall come out as gold." Not too many of us have come to the place of "considering it all joy" (James 1:2), and yet this is how the Refiner scrapes off the impurities, and how the Master Craftsman chisels away the rough edges and ugly chunks that do not reflect His image.
Spiritual Disciplines
To help us reflect the Lord, the Holy Spirit also uses our own attempts to exercise ourselves for godliness – prayer, reading and meditating on the Word, worship, fellowship, and serving to name a few. First Timothy 4:7 urges us: "train yourself for godliness…." Far too many of us take this as a suggestion. Worse yet, some Christians ignore it completely because it reminds them of legalism or works righteousness. To "train yourself for godliness" takes hard work.
The Holy Spirit produces the growth, but we take part as we submit ourselves to His methods. While that is something we do, it is ultimately something He does. How can it be both? The spiritual disciplines are some of the ways we can gaze into His face – and as we do, His Spirit transforms us into His likeness. Second Corinthians 3:18 says that as we are "beholding the glory of the Lord, [we] are being transformed into the same image from one degree of glory to another. For this comes from the Lord who is the Spirit." What a relief that it doesn't all depend on us!
Godly Influence
The Bible describes godly influences as "iron sharpening iron" (Prov 27:17). God created us to need each other. And we are actually incomplete without others, just like a body. For, "If the whole body were an eye, where would the hearing be?" (1 Cor 12:17). We need other Christians to flesh out how much we are like Christ as we love (John 13:34), serve (Gal 5:13), forgive (Eph 4:31), teach and admonish (Col 3:16), encourage and build up (1 Thes 5:11), pray for (James 5:16), and spur to love and good deeds (Heb 3:13).
During my seminary training, I came to admire a professor by the name of Dr. Dave Deuel. While he was intelligent and well-educated, it wasn't his knowledge that impressed me. The first time I met him, he was helping a new international student move his family into their apartment. I was very surprised to see a distinguished professor in shorts and a T-shirt, lugging around heavy boxes on a hot, sweaty, August afternoon in California. My wife even commented that if this is what The Master's Seminary professors were like, I was in good hands. Not too long after I came to Ukraine, he moved to another state. I felt his departure was a significant loss to the seminary – not because he was more knowledgeable than others, but because he was a kind, loving, humble, Jesus-like influence in a highly academic setting.
Obedience
Finally, becoming more like Christ in our character cannot be accomplished without habitual obedience. "If you love Me you will keep My commandments" (John 14:15). "For whoever does the will of my Father in heaven is my brother and sister and mother" (Matt 12:50). Also, "Whoever keeps His word, in him truly the love of God is perfected. By this we may know that we are in Him…" (1 John 2:5).
Christ-Like Character: the Main Thing
Only through loving the Lord with all our heart, mind, and soul can we be good shepherds of His sheep. He is infinitely worthy of such worship. And that is the way to lead others – by exuding His likeness. Lord help us to run the real race, and to be found faithful in the main thing.
---